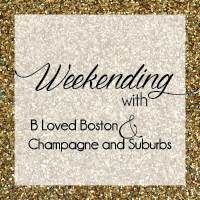 Happy Monday morning lovelies!! First off I'd like to congratulate my co-host
Meghan
on becoming a Mrs. and while she's not sharing her weekend with us - I'm pretty sure she had the best one ever!! Mine was exactly what the doctor ordered - sun shining bright and some much needed retail therapy!
1//A little sunning and planning on Saturday - we have quite the trip coming up next week!
3//The guests of honor for a lobster feast on Saturday night
4//Followed by a childhood favorite of Gary's called Mr. Cone
5//Finally found a mirrored tray at
Target
on mega clearance - not on sale on their website but it was $8.99 in store!
I love any excuse to shop and Western Massachusetts happens to have a great mall!
F&F
just recently opened up and we actually don't have one in Boston yet! Comparable to H&M - it's another European store and has some really great clothes!
As you saw from the first photo we're headed to Paris and London soon ~ so if you've been to either city please feel free to share your must sees and restaurant recommendations!!
I'll leave you with a beautiful sunset from this weekend! Hope you all have a wonderful week!!
xo,

56