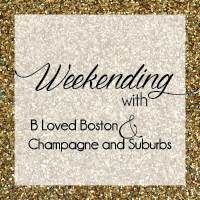 Happy Monday!! I'm sure you guys are wondering if you made it to the right blog - you did!! What better way to start off this weekending post than to show off my new layout!! What are your thoughts? I worked with Adrien from
AdrienDesign
and it could not have been easier!! The transition was seamless - easy and she was incredibly responsive to my 50+ emails!! This has been a couple months in the making, but I'm really loving that it's clean, crisp & new!!
The weather wasn't all that wonderful on Friday after work - but when the end result is a beautiful rainbow - you can't help but smile!
With all the fresh blooms on Instagram - I decided to join in on the party! This little bouquet is from Trader Joe's for $4.99...I mean it doesn't get much better!
Saturday night we went out to dinner at
Max Brenner's
with friends- my third time in the last 3 months! I can seriously eat everything on their menu, but the waffle fries have got to be my absolute favorite! Feast your eyes on Crystalized Churos with dipping sauces!
Driving to my sisters house is like going through an enchanted forest...so serene!
Gary goofing around with my nephew!
Seeking inspiration from the latest InStyle on a stellar day yesterday!
My upcoming week is jam packed and I couldn't be happier about it!! Starting it off with a 5K after work today! It's pretty ironic that I had never run more than 2 miles before May and now I have three races in the next month!
Thank you so much for linking up with us and I can't wait to read about all your wonderful and relaxing weekends!!
xo,