Woo hoo for Friday!! This week has flown by and I'm so excited because my parents are here and we have a full weekend planned! I've missed these round-ups with Amanda over the past two weeks so let's get right to it!!
Favorite Recipe
Favorite Look
Jessica Alba is always crushing it with her style, but this casual outfit was a knockout for me - I just love that the belt matches the loafers and then the pretty pink lady-like bag - LOVE!
Favorite Purchase
After seeing
Tara
wearing this necklace on a recent vacation - I had to find it!! Sadly the Zara's here in Boston didn't have it, so off to eBay I went. I found it brand new and for 50% less!! Can't wait to wear it!
Favorite Workout
This workout is no joke!! I was sweating up a storm within minutes of starting!!
Favorite Links
+
10 foods
to help you feel more energized during the day - printed this one out!
Hope you all have a wonderful weekend and hope to see you back here on Monday for Weekending!!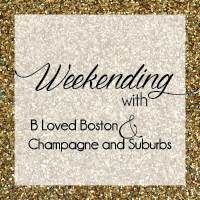 xo,