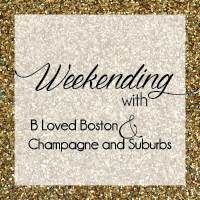 This weekend was all about girl time and relaxation, which started promptly after work on Friday with drinks at CityBar.
Gary was out of town so that meant I watched reruns of Gossip Girl & movies he wouldn't care to see, like Stuck In Love. If you're interested in a feel good romantic movie - this isn't it, but it was entertaining and streams on Netflix! So a win, win!
Saturday morning started out in the best possible way - a kick butt
workout and fresh pressed juice!
Before heading out on Saturday night I tried my best to snap an OOTN photo.
My friend Jess (The Savvy Bostonian) and I went to Tavern Road for the first time and it was delicious!
The charcuterie board, lamb meatballs & chickpea bites were some of the samplings we tried - and they were all delicious!
While no huge purchases were made during tax free weekend - I was able to get a great pair of jeans and blouse from J.Crew at the outlets this weekend!
Sunday's have been my go to day to buy flower and Trader Joe's did it again with their gorgeous roses...$4.99 and they last for weeks!
And I'll end this recap with Justin Timberlake singing Happy Birthday (along with 25,000 other people) to a sweet 8 year old boy! Click
here
to see the video!
Hope you'll share your weekend happenings with
Meghan
and me!!
xo,