Every week I sit down to write these posts and each week I'm in shock at how quickly the days pass us by!! No complaints on this particular Friday as it's pay day and I've got my eye on some great
things
for Tax Free Weekend here in Massachusetts! As always - linking up with
Amanda
to share my favorites from the week!

Favorite Recipe
I pinned this recipe a while back and have been dying to make it - hopefully this will be the week! Have you ever tried Korean Beef before?
Favorite Song
I am loving this song by Maroon 5 - like most of their songs, it's really catchy and apologies if it gets stuck in your head today! Side note Maroon 5 was the first concert I was able to go to on my own without my parents driving me junior year of high school!
Favorite Workout
The days I know I wont be able to workout after work and don't quite feel like going to the gym - I run and then do a quick cardio/weight routine at home.
This pop-sugar one
is no joke and leaves you out of breath and it's less than 10 minutes!
Looks of the Week
It's no secret that I love Jessica Alba as evidenced here and here, but could these two looks be more perfect? She's sweet and ladylike in one and bombshell in the other!!! And the hair...


Favorite Quote
Reminding myself to smile for those good days!
Link Love
+The world lost a great talent on Monday and this article shed life of 25 lessons Robin Williams has taught us!
+Unless you haven't checked your Facebook in the last week - then you may not know about the #ALSChallenge - these two guys were my favorite famous ones of the week
+I personally loved watching LC on The Hills - and her quotes are all totally relevant today!
What have you been loving this week?!
Hope you all have a fabulous weekend!! See you on Monday!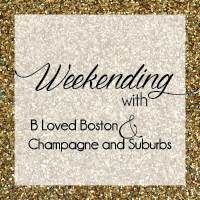 Also linking up with Lauren Elizabeth
xo,