Happiest of Friday's to all of you!! With Saturday being the official start to summer, Gary & I are taking part in the Rock and Run Boston race - this one is a bit different since there are actual obstacles - here's hoping my manicure stays intact!!
Favorite New Find
In an effort to change up some of our sides, I picked up this quinoa mix and it was amazing!! Talk about the easiest side ever, just add water and some olive oil! We paired it with fish to make a super easy weeknight meal!
Favorite Mail Day
Some of you on
Instagram
saw that my mom sent me some amazing Michael Kors wedges, but what I didn't show was the perfect red/orange dress to wear those shoes with!! The dress has gold and black accents to perfectly match the shoes! Can't wait to sport this little number!!
Favorite New Beauty Buy
I was in need of a new BB or CC cream and wanted to try something new - so I picked up
Stila CC cream
! The finish is pretty great! I'll report back to whether it's a good buy!
Favorite Workout
My workout schedule was sort of all over the place this week; some cardio, a pure barre class and then some at home workouts! It's pretty obvious that these girls make working out at home easy - and I just love going to their
channel
and searching through all their routines!
Favorite Look of the Week
How amazing does
Keri Russell
look in her leather mini and casual top for Coach's annual summer party?! And that pop of color on the lips - this would make the perfect date night/GNO outfit!!
Before I head out for the weekend I just want to take a moment to thank you all for the positive feedback for the
B~Inspired Series
that I've started. I have always been surrounded by strong, independent and crazy brilliant women - even more so now that I started blogging! I look forward to bringing you more inspiration in the coming months!
Hope to see you back here on Monday with your Weekending recaps!!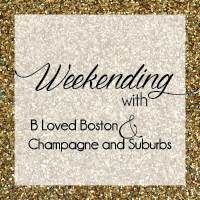 Also linking up with Liz & Natasha
xo,